$11.98
Annie Jacobsen, illustrated by Maren Everson
Product Description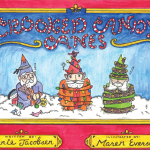 What to do? What to do?
Santa's sleigh is stuck in the snow and just won't budge! Christmas Eve is just hours away! Will his helpers get  the sleigh unstuck and Santa off in time to deliver his presents  to all the good little girls and boys?
"Crooked Candy Canes," is a delightfully, funny story for children of all ages. Slip and slide into this happy Christmas tale!
Merry Christmas Everyone!